You can share items with other users and control what they can access and do within such items.
TIP: For this step, you need to have permission to share.
1. In the Explorer, select the item that you want to share (in this example, we selected a document).
2. Click Share.
3. Type to Search and select the user(s) or group(s) of users that you want to share the item with and the respective roles. Then click Share.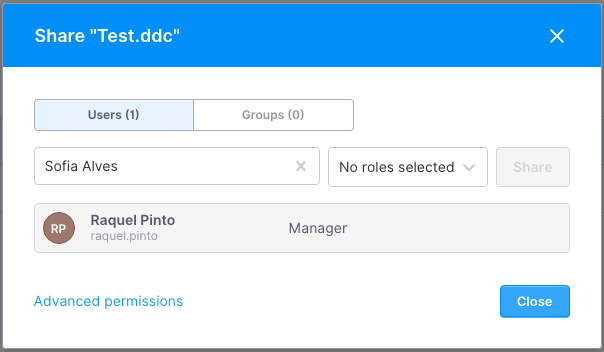 NOTE: If you selected a folder, you will need to define if you want to apply the changes to all the descendants of the folder.
5. Click Close and you will have a shared item.
TIP: Go to Advanced Permissions to define granular permissions to each user or group of users.
---
I have tried all the steps above, but I still cannot solve my issue...
To get additional help and if you have not yet done so, click on the question mark icon on the bottom right corner of your screen and submit a support ticket. We will be happy to provide you with more help.